SoPA Faculty Newsletter
A Note from the Academic Dean
Thanks to all of the SoPA faculty members who are creating or revising online courses to meet the new SoPA guidelines. We appreciate your efforts in helping us to create quality online courses. Providing consistency in the look and feel of our SoPA online courses, as well as maintaining standards for the essential elements of our courses, is critical to ensuring a positive online experience for our students. These factors help our students acclimate easier to the online environment allowing them to focus on learning the content and material in the courses.
To those who are developing and revising online courses, as you build your course and add content, keep in mind how you (or another instructor teaching your course) will be engaging the students each week. Asynchronous discussions should be occurring to provide students a forum to interact with the instructor and each other while demonstrating their understanding of the material. As someone who has taught online, I have found one can have rich online discussions with students, particularly when they are asked to respond to open-ended discussion questions. Set the tone and expectations for the course up front in your syllabus so students understand that their participation in the course is essential to their success. I also encourage you to create a rubric for your discussion that can be added to Canvas and accessible using the SpeedGrader function. Class participation can be assessed, as well as competencies such as subject knowledge, critical thinking, and professionalism.
Our hope is to begin reviewing the courses in the middle of July so revisions can be made by August. Classes begin August 28. The timeline shows milestones in course development. If you have any questions, please do not hesitate to contact us with questions.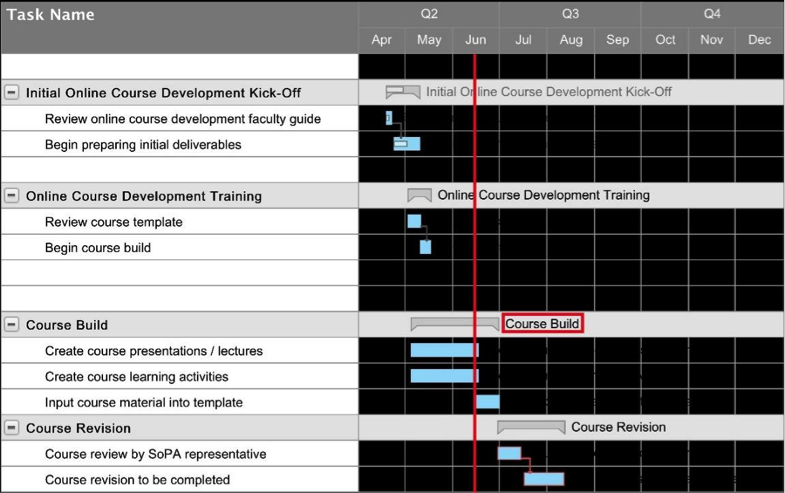 Again, thanks to all of you and to Kay McLennan whose expertise in online course development and commitment to quality online education has been so valuable to SoPA. SoPA faculty members considering teaching online should contact me or Kay to discuss the possibility of turning your face-to-face course into an online course.
Sincere regards,
Ilianna
---
Ilianna H. Kwaske, Ph.D., Associate Dean for Academic Affairs
Tulane University School of Professional Advancement
ikwaske@tulane.edu | 504.865.5555
---
Toolbox: 4 SoPA Faculty Teaching Online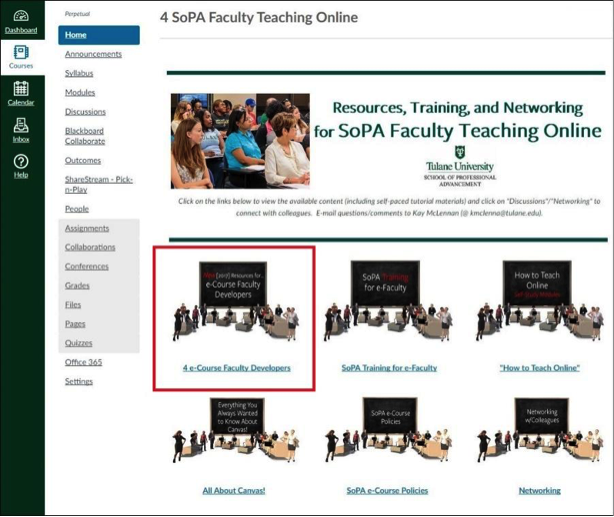 If you have not already done so, please be sure to visit the 4 SoPA Faculty Teaching Online resource site in Canvas (by clicking on your Dashboard and scrolling down until you see the site listed). To find the Toolkit listing of available software for faculty, suggested interactive component options, and more, please be sure to click on the "4 e-Course Faculty Developers" section. If you need to be added to the access list for the 4 SoPA Faculty Teaching Online site, write to Kay McLennan, kmclenna@tulane.edu.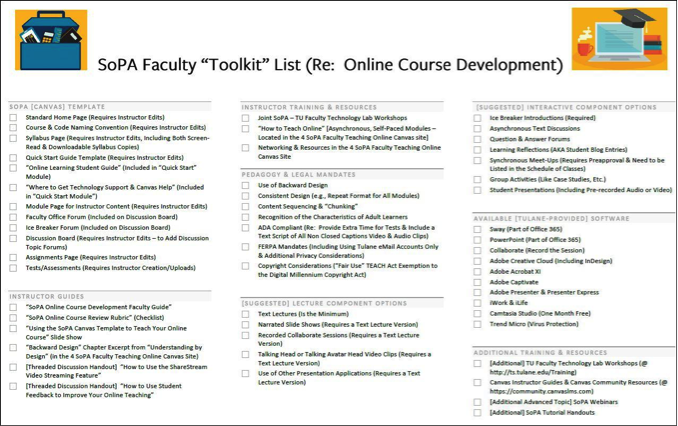 ---
Instructor Moves Class Online to Sidestep Severe Weather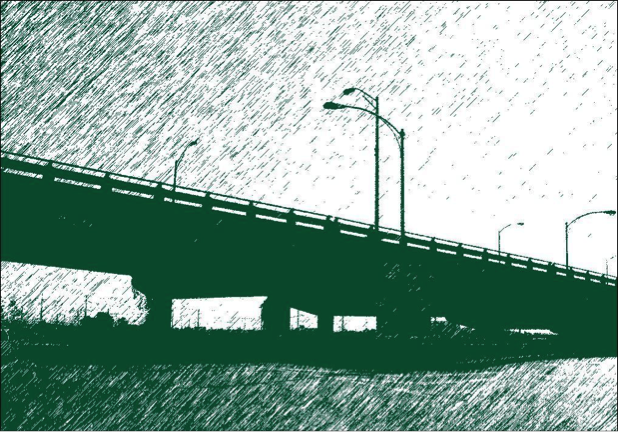 Instead of canceling his class, Danny Albert, a past SoPA Faculty Fellow, moved his classroom-based Enterprise Architecture course online. With a severe rainstorm already in progress on the evening of June 13th, Danny left his office early. Even allowing extra time to travel to the Uptown Campus, Danny found himself, "stuck on top of the Jefferson-Davis overpass -- due to a newly formed rainwater runoff lake" (at the base of the overpass). Danny used a distribution/notification list he had previously created for the members of his graduate course -- to let them know he would be moving the class online in the Collaborate webinar platform included in Canvas as well as recording the sessions for any students unable to make the online session.
Danny added, "I record every class I teach (both in a classroom and online) -- so students will be able to watch or rewatch the sessions, as needed." Also, "I utilize Team Based Learning -- so some students make online presentations." In short, Danny is making use of every available technology tool!
---
Upcoming Training Webinars for e-Faculty*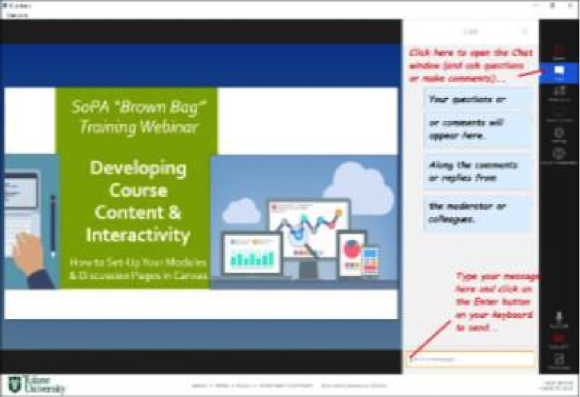 Completely online "brown bag" [lunch time] e-course development/revision training webinars will be held during the summer months, focusing on:
Developing Course Content & Interactivity (Or How to Set-Up Your Modules & Discussion Pages in Canvas)

by Kay McLennan;

Date:

Thursday, June 22nd @ Noon

Creating Tests and Using SpeedGrader in Canvas

by Bobbie Garner-Coffie & David Akirtava;

Date:

Thursday, June 29th @ Noon

ADA Compliance in Online Courses

by Bobbie Garner-Coffie & David Akirtava.

Date: Thursday, July 13th @ Noon
All three webinars will be recorded -- and made available in the 4 SoPA Faculty Teaching Online site in Canvas -- if you cannot attend the webinar sessions. For more information, contact Kay McLennan at kmclenna@tulane.edu.
* Note: The brown bag faculty training sessions were created to support the SoPA faculty members creating new online courses or revising courses that meet the new SoPA guidelines. Of course, all SoPA faculty members are welcome to attend any or all of the upcoming webinar sessions.
---
Setting-Up Text Messages in Canvas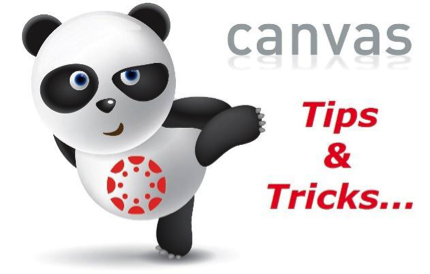 Create your own text message notification system in Canvas by encouraging your students to add their cell phone number to their Canvas settings. To enable text messages from a Canvas course site, encourage your students to:
Click on "Account" in the upper left-hand corner of any Canvas page;

Click on "Settings";

Click on "+ Contact Method" in the upper right-hand side of the page; and

Enter your cell number and cellular service provider in the "Register Communication" box.
Tulane University
School of Professional Advancement
125 Gibson Hall, 6823 St. Charles Avenue, New Orleans, LA 70118
504.865.5555 | asksopa@tulane.edu | sopa.tulane.edu